Edvice Princeton is an international educational consulting firm committed to helping students and their families navigate the complexities of the admission process.
We advise for application to independent day and boarding schools, undergraduate colleges and universities and selected graduate programs.
The team at Edvice Princeton represents over 50 years of experience and collective wisdom from professionals who have done the job on both sides of the admission aisle and at all levels of selectivity for secondary schools and colleges/universities. We know kids. We know colleges. We know schools.
We are currently creators for the new and informative company, TidBitts.  Please explore our weekly articles covering all aspects of the school and college admission processes.  This recent press release explains more: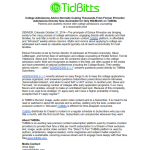 Guest Forum

We are often inspired by the thoughtful commentaries of our colleagues.  Sometimes we agree, sometimes we don't, but we appreciate the debate and the conversation that comes with those who are equally as passionate about the admission process, about education, about students, and about our shared role as educators.  As a result, we have dedicated space here to share these thoughts with you. We are pleased to introduce you to Jon Boeckenstedt,  the Associate Vice President at DePaul University  

www.depaul.edu

.